Annie has a magical ability to heal, and a little boy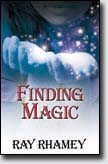 named mike needs her help. But she's accused of being a terrorist and is running for her life.
Then true terror strikes when a madman creates a pandemic plague that will destroy Mike and all of mankind.
Annie races to prevent disaster . . . and then Homeland Security attacks.
A page-turning journey of imagination and discovery. Free sample here. Paperback and ebook.Finding Magic is a genre-bending novel by Ray Rhamey.